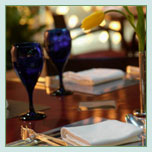 The Grist Mill Café has a funky atmosphere and great healthy food. Ten minutes away at 3825 Main Street in Burdett @ 607.546.7770.

The Stone Cat is a local favorite, especially for girls' night out. Great food. Ten minutes away at 5315 Rte 414 in Hector @ 607.546.5000.

Glenora Veraisons offers gorgeous views of the lake, upscale dining with a wine tasting room. Fifteen minutes away at 5435 Route 14 North in Dundee @ 800.243.5513.

The Mate Factor Café is a hippy heaven with natural surroundings and organic food. Twenty-five minutes away at 143 The Commons in Ithaca @ 607.256.2056.

Moosewood is our favorite vegetarian restaurant in the country, right in our back yard! Twenty-five minutes away at 215 North Cayuga Street in Ithaca @ 607.273.9610.

The Esperanza Mansion offers beautiful grounds and a lovely place for brunch/dinner or Mom & daughter time. Just over a half hour at 3456 Rte 54A, Bluff Point @ 866.927.4400.
There are many vegetarian and vegan restaurants available throughout the area.